Las Vegas, NV
Roberts Racing is anxious to get back in the fray at the Great American Race, the Polaris RZR Mint 400 presented by General Tire. The team had two out of three race cars sidelined at the Parker 425 due to shattered steel. Mechanical failures halted their vehicles but did nothing to break their resolve. Dakota Meyer brought the 1588 car home in 90th place after 17 hours of racing. The last official finisher, he kept pushing until the end. Meyer, a Medal of Honor recipient, is the perfect go-to guy when things get tough. Originally slated to co-drive, his performance in Parker has elevated him to driver of record in the #1588 at the Mint 400.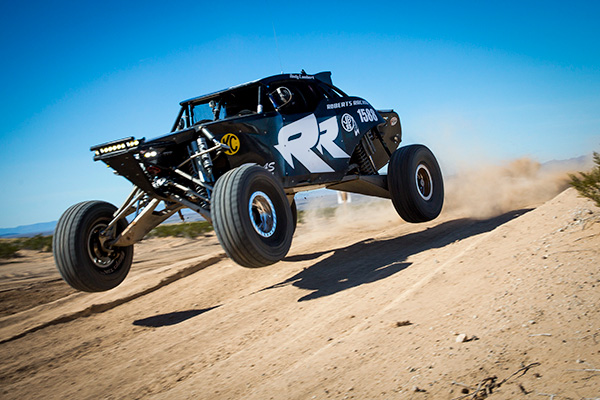 Dakota's car will have a special camo wrap applied that honors the men and women of our armed forces. On each side of the car is a dedication that pays tribute to his fallen teammates 1st Lt. Michael E. Johnson, GySgt. Aaron M. Kenefick, GySgt. Edwin W. Johnson and HM3 "Doc" James R. Layton who paid the ultimate price to secure the freedoms we all enjoy as Americans.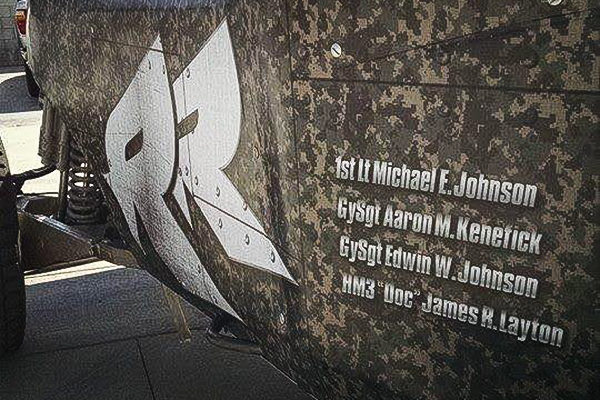 Dakota will be available to the media during the press conference in the El Cortez Hotel on Fremont street 3 p.m. on Friday.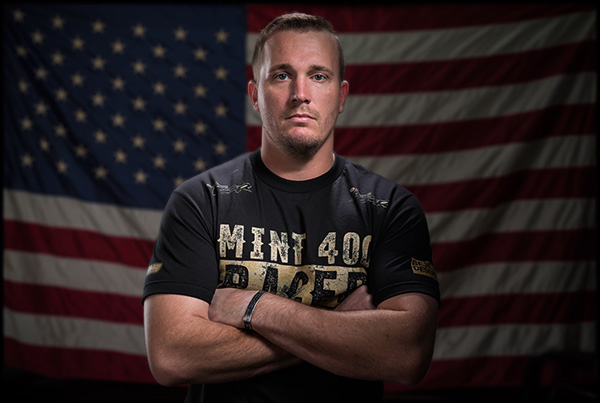 The weekend of events actually begins on Wednesday at 1:00pm when the race vehicles will parade from the South Point Casino to Fremont Street. At 4pm the Mint 400 kick off party begins at 10th and Fremont followed by the Pit Crew Challenge Qualifying. Thursday at 11:30am is qualifying behind Buffalo Bills, (open to the public), then the Rugged Radios Meet and Greet at 4:30pm back on Fremont and 10th where Dale Dondel & Dakota Meyer will be signing autographs.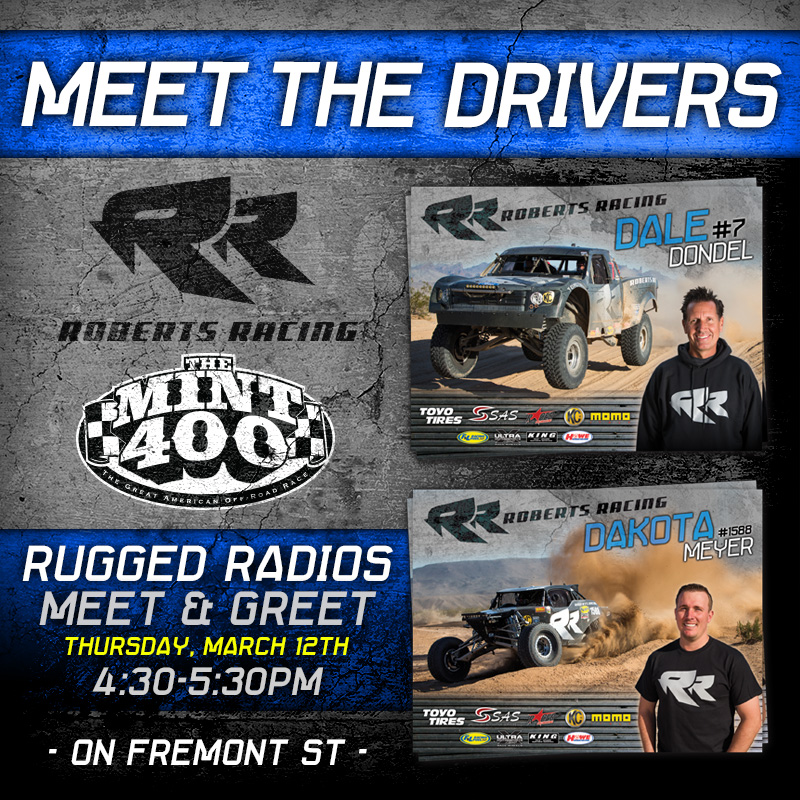 53 Trick Trucks will be competing at the Mint so you don't want to miss time trials. Events continue on Fremont with time trials announcement, the Miss Mint 400 Crowning at 6pm and the Pit Crew Challenge at 6:30 followed by the Pit Crew Challenge party. Friday is contingency on Freemont St. East.
The Mint 400 has enjoyed seven years of uninterrupted national television coverage since its triumphant return in 2008. Last year, The Mint 400 joined the Red Bull Signature Series and aired on NBC prime-time, reaching 120 Million homes and making it the largest off-road television event in the sports history. In addition to four hours of national TV coverage, the Mint 400 documentary feature will be distributed on DVD and multiple streaming services (iTunes, Amazon Prime, Hulu) later this year. Attendance at the race is expected to surpass 55K+, 25k at contingency alone on Friday.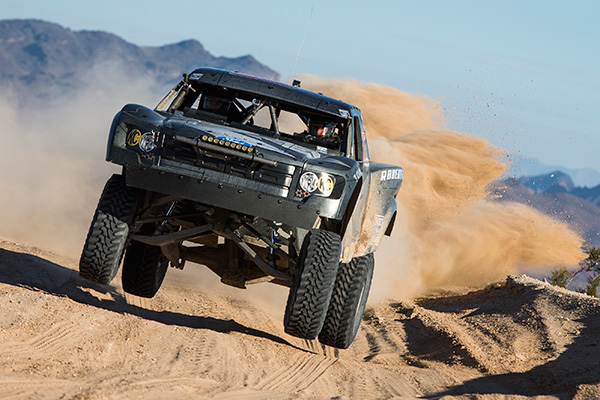 Everything starts on Wednesday, March 11th. Dale Dondel will no doubt be adding to his impressive 7 straight number 1 qualifying streak in the Roberts Racing #7 Trick Truck and Dakota Meyer will be out to secure a top starting position on the grid in the Roberts Racing #1585 unlimited car. Thanks to support from Toyo Tires, Specialized Automation Services LLC, Racer Engineering, Momo, King Shocks, KC HiLites, Howe Performance Steering, F&L Racing Fuels and Ultra Race Wheels, Roberts Racing will be re-tooled and ready to go at the Mint 400.
Photography By: Bink Designs / Dakota Meyer Photo By: Mad Media / The Mint 400