Bink Designs offers a long list of products and services including Identity, Print Design, Vinyl Graphics, Web Design, Photography, Apparel & PR . It's no surprise that when one of the most dynamic teams in off road racing, Roberts Racing, needed to create a cutting edge website, they chose Bink Designs.
The team's new website ( www.roberts-racing.com ) is a fully interactive destination for anyone seeking information on Roberts Racing, their many sponsors and the team's most recent accomplishments. "The Roberts Racing site takes advantage of the latest technology," says Brian Binkert, owner of Bink Designs. "It features a responsive design that works on cross platforms such as smart phones and iPads. We wanted the site to be easy to navigate and supply all the latest media from Roberts Racing such as dynamic photo galleries, videos and breaking news; an easy to use e-commerce system is in final development stages for the site where you can purchase the latest team apparel and accessories, stay tuned!"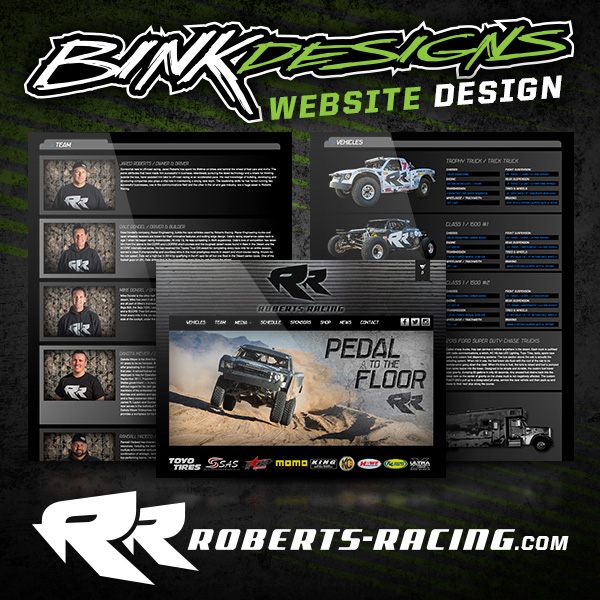 Roberts Racing is competing in both short course and desert off road racing in 2015. With so much going on, their website is the place to stay in the loop on all of their latest exploits. Dale and Mike Dondel, Jared Roberts and Medal of Honor recipient Dakota Meyer will be putting in some serious time behind the wheel and at events around the country. Don't miss out on a single minute of the action!
Visit www.roberts-racing.com to check it out and sign up for the Roberts Racing newsletter to receive team updates and become eligible for future giveaways!
Every team that is intent on being successful can benefit from a marketing program that includes a professionally designed website, social media networking, continuously distributed press releases and generous cross-promotional exposure in print media and commercial advertising. Take your program to the next level; call Bink Designs today at 619.922.2465 or email info@binkdesign.com to discuss your needs.